University of Huddersfield Press Release
A team headed by Professor Adele Jones – an expert on social work and issues including child protection – includes Professor Minhua Ma, who has a global reputation in the field of serious games designed to bring about improvements in fields such as healthcare.  The inter-disciplinary group has now been awarded 400,000 euros via the European Union's Delegation to the Eastern Caribbean Research Programme: Towards a Future Free from Domestic Violence.
This will fund a multi-faceted investigation of domestic violence in the Caribbean countries of Grenada and Barbados.  The research will be mirrored in the UK by another member of the team, Gill Kirkman, (pictured far right) who is Subject Leader in Social Work at the University's School of Human and Health Sciences.  Also taking part in the project is Reader in Criminal Psychology Dr Daniel Boduszek.
15th January 2016
Full STEAM Ahead! University Researchers' Night impresses European Commission
Paul Harris, Policy Officer from the Directorate-General for Education and Culture of the European Commission, attended the University's STEAM event. Here are his comments:
"Thank you very much for the welcome to the University on Friday and many congratulations on your European Researchers Night. I thought that it was tremendous from start to finish, there were so many children and families there who all clearly had a great time. You had many imaginative ideas, which worked very well I thought. The EU corner very clearly presented your impressive range of EU projects. Visitors were clearly very interested by the demonstration there of the virtual reality tool for tackling domestic violence.
"The keynote lecture succeeded in putting a lot of what we all do into the overall policy context – actually two of the Nobel laureates mentioned were involved in the Marie Curie Actions earlier in their careers.
"Please pass our thanks and good wishes to all of those who worked to make the event a reality."
30th September 2016
None in Three project wins UK national award!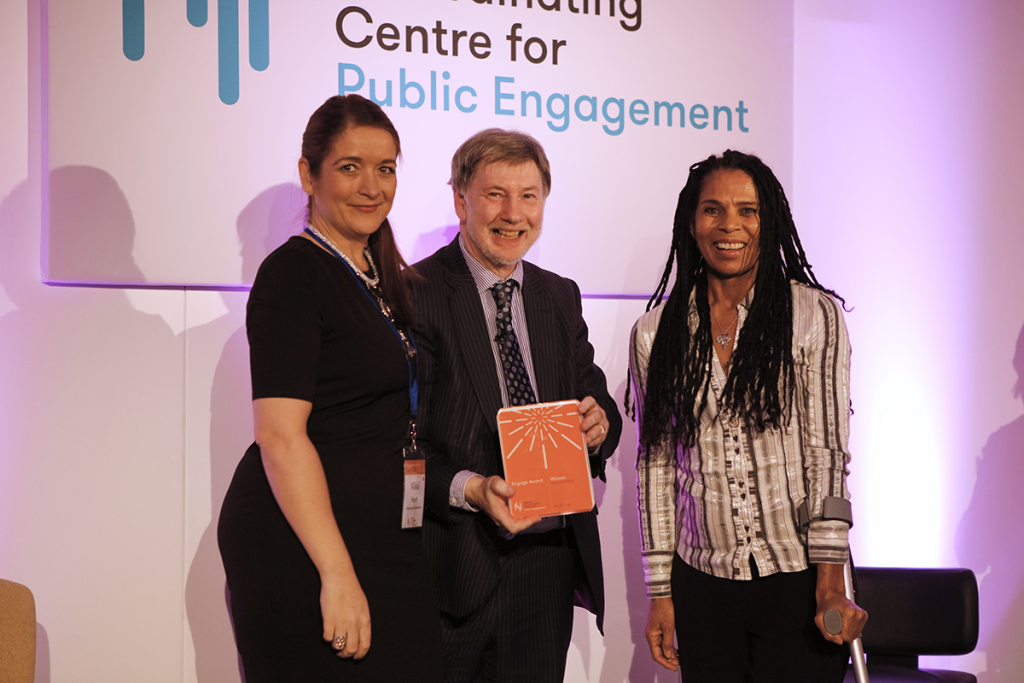 The None In Three project was selected from over 180 entries to win first prize for its impact and public engagment work at the.NCCPE's Engage Competition on Monday 28th November 2016. The project was one of three finalists in the Health and Wellbeing category.
"This award is for the public face of the project and our outreach to people at every level of society," said project lead Professor Adele Jones. "It could not be more significant from the university's point of view and will also be helpful in generating more funding."
The shortlisted work ranges from digitally reconstructing city histories to protecting endangered species; from working with older people as researchers to delivering hyper-local science festivals; from young children conducting their own research to influence the United Nations, to using theatre to improve oral health outcomes.
The project wins a prize of £1,500 to go towards further public engagement work.