None in Three Newsletter Issue #3
July 2020
About Ni3
None in Three (Ni3) is a global research centre for the prevention of gender-based violence (GBV).
The name None in Three comes from the statistic that one in three women around the world will experience some form of physical or sexual violence in their lifetime. We believe this is an unacceptable number; that any violence against women and girls is not OK, and we work to make that number NONE in three.
GBV is the term used to describe harm inflicted upon people that is connected to how their gender is understood within their culture. We research different forms of GBV and are developing interactive computer games as educational tools for young people, to be played in schools.
Through these games we aim to effect meaningful cultural change. We work to change attitudes and behaviours that relate to different types of GBV, including sexual abuse; adolescent dating violence; gender bias and its relationship to gender-based violence; and child marriage.
We are passionate about making a difference. Through our work we are striving to change the behaviours and attitudes not only of individuals, but of governments too.
We seek to achieve real-world impact through our research. We want to persuade governments to listen to the facts about GBV, to accept the extent of the problem, to acknowledge how many women and girls are being abused, and to act in order to change this.
It's been a turbulent few months since our last issue. We continue to weather the storm and to respond to the challenges we are faced with. We are pleased to bring you the latest edition of our newsletter, in which we focus on the process of developing our educational computer games, aimed at preventing gender-based violence. But we cannot ignore two major world events that currently occupy the thoughts of our team just as they fill the airwaves worldwide: C-19, and the ongoing struggle against racism in the name of George Floyd.
Games and social change: connecting thought and emotion
None in Three International Advisory Group member Colleen Macklin, Associate Professor at Parsons School of Design, New York, shares her ideas about the power of games for good: ideas which underpin our thinking as we develop educational tools to prevent gender-based violence.
I've spent the last 15 years focused on how games can present opportunities to learn and even change perspectives on social issues. Games can do this because they activate our intellectual capacities as well as our emotions. Games are the pop cultural form of systems; they help us develop systems thinking because they are systems. They let us play with systems and experience the results. In a game we can safely fail, and through failing, we learn.
But games are not just abstract systems, they're also emotional engines. They generate in us a wide array of feelings, which we might call "fun", but is really a level of engagement and agency that we rarely experience in everyday life. In the ultimate paradox, games are powerful because they exert no power in our lives, they're consequential because of their inconsequence. They exist in a special place outside everyday life, and give us opportunities to explore ideas and feelings that we might not have an opportunity to. As Philosopher Thi Nguyen puts it, "Games are the art of agency." Games are powerful for social change because they capture our hearts and our head: they let us try on new forms of agency-of being a person in the world. Through games we can begin to understand new ways to see the world, to solve problems, and even to live.
Developing evidence-based video games
As a research centre for the prevention of gender-based violence, our work involves studying different forms of GBV, and using the lived experiences of those affected, to inform the development of culturally relevant video games. We then evaluate the games through clinical trials, to test their effectiveness in providing a positive influence, to prevent violence.
None in Three's pilot game, Jesse, was shown to have a lasting positive impact on young players, increasing empathy and non-violent conflict resolution skills (Boduszek et al, 2019). We are now in the process of developing four new games to tackle different forms of GBV:
Jamaica – child sexual abuse
Uganda – sexual coercion in the context of child marriage
India – gender bias as a facilitator of GBV
UK – abuse in adolescent relationships
Our in-house game development team works closely with our researchers to ensure the games are grounded in our empirical research, and reflect the experiences of real people. They use their game development expertise to bring the games to life, making them engaging, playable and immersive.
None in Three qualitative research – interviews with people affected by gender-based violence – informs development of the game storyline and characters. From there, the game concept is developed, building in game mechanics and interactive features, such as interacting with items in the environment, participating in conversations with branching dialogue and an in-game phone messaging system.
We test our game concepts against a robust framework, ensuring they meet both Ni3 and country-specific government objectives, as well as UN sustainable development goals. Crucially, we are continuously testing and revising to ensure the educational games address learning outcomes, and use evidence from real people's experiences. Consultation
with country-based researchers and young people is essential throughout the development process. Our team of artists, designers, and programmers collaborate to build each game, including characters, environments and gameplay, creating a holistic and immersive experience for the player.
Our games are designed for playing in classrooms and are therefore PC based games that work directly from USB sticks, so nothing needs to be installed. The games are developed using Epic's Unreal Engine, which provides a complete suite of development tools to design, create and package games. We also use other industry standard software to create the content for the games, such as Adobe Fuse to create realistic looking characters, Maya to build 3D models and environments and Substance to paint all the models and bring them to life.
More information on the game concepts in development is available on the games pages of our website. We look forward to completing the next two of these, for Jamaica and Uganda by the end of 2020, with games for India and the UK to follow for completion in 2021, and to testing these as violence prevention tools.
Black Lives Matter
Given recent events in the USA, we feel it important to add our voice to those speaking out against racism, and have issued the following statement via our social media channels:
"We are deeply disturbed by the murder of George Floyd and as a Centre committed to the elimination of violence against women and children, we stand in solidarity with those across the world who seek an end to continued racism, oppression and violence against black people."
Photo: Mural of George Floyd located on Chicago Avenue in Minneapolis, Minnesota.
Our UK None in Three research has shown that racism at the individual, organisational and structural level significantly hampers Black, Asian and minority ethnic women being able to flee from domestic abuse. These findings came from a themed analysis of academic journal articles during a thorough systematic review of current literature. Researchers examined the many inter-related issues minority ethnic women face, which are over and above those faced by majority ethnic women, when trying to escape from violence and abuse by an intimate partner. Racism at all levels further oppresses women, leaving them more vulnerable to the continuation of abuse.
None in Three response to Covid-19
"Unprecedented times" has become a common phrase for many of us over recent months. As a research centre working to prevent gender-based violence, we are acutely aware of the impact of the global coronavirus pandemic on society as a whole, and on those vulnerable to, and experiencing abuse.
Given our current work is due to be completed within a specific timeframe, at a time when normal life has been turned upside down for so many, we have also had to review and adjust our plans, in order to respond to the challenges presented to our work by the 'lockdown' situation and the ongoing risks to public health in our study countries.
Our game development plans have been adapted to ensure that we can deliver a complete, playable and engaging game, within the timeframe of the project.
We are keen to undertake further specific research to support the global recovery from the impacts of Covid-19. As such, we have been delighted to welcome Professor Padam Simkhada as our newest research centre member. A professor of global health based at the University of Huddersfield, Padam will be leading a joint bid for UKRI funding to address the needs of vulnerable groups of women in Jamaica, India and Uganda. Watch this space for updates, and welcome Padam!
Covid-19 claims life of Ni3 honorary researcher
Tragically, Dr Huma Zafar passed away from coronavirus in her home country of Pakistan, in May 2020.
Dr Zafar was a post-doctoral researcher at the University of Sheffield during 2018-19, and given close synergy between her research and ours, joined the Ni3 Centre as an Honorary Research Consultant. Her untimely death is a tragic loss, and we extend our condolences to her family, friends and colleagues.
International perspective
Professor Matt De Lisi, of Iowa State University, is Chair of None in Three's International Advisory Group.
Matt DeLisi is a criminologist whose research with Ni3 has focused on the linkages between childhood abuse and the development of psychopathy and conduct problems. His Ni3 research has appeared in the Journal of Child Sexual Abuse, Journal of Criminal Justice, and Deviant Behavior. In 2020, Matt was named Distinguished Professor at Iowa State University for his extraordinary research accomplishments. We are grateful to Matt for his voluntary contribution to Ni3 as Chair of our International Advisory Group, and look forward to working with him on publications from our quantitative research as we move into the latter stages of the project.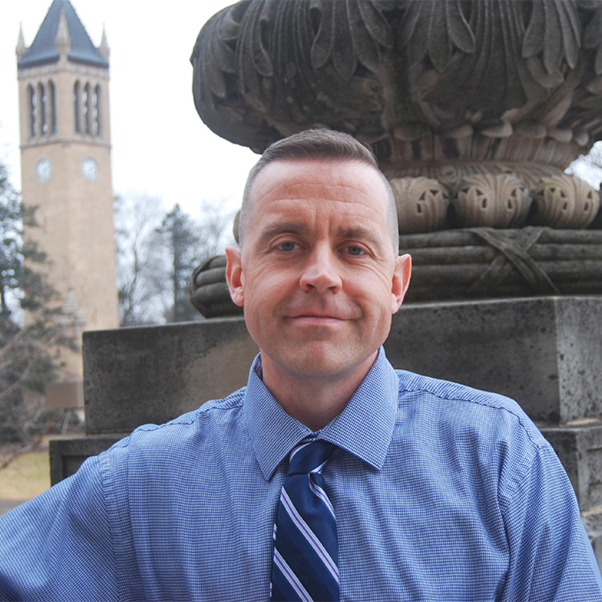 If your organisation may be willing to provide financial or in-kind support for getting our anti-violence computer games into schools, e.g. through the provision of laptops, please contact us.
Next time… the Design Issue
Our games use design principles to engage young people. We'll also explore the other design aspects to engaging audiences with our research, including the work of our Design Hub in Mumbai.
The IDEA Hub
Visit our online hub for Impact Dissemination and Engagement Activities (the IDEA) related to None in Three's research, including latest news, publications, video and social media content.
Visit The IDEA Hub for more news
None in Three is funded through the UK government's Global Challenges Research Fund and the University of Huddersfield. The global research centre is based at the University of Huddersfield and its work is currently being delivered in partnership with: ISDI School of Design and Innovation, Mumbai; UTech, Jamaica; Makerere University, Uganda; and academics at the University of Sheffield, Manchester Metropolitan University, Nottingham Trent University and the University of Greenwich, UK.